"It Isn't Always Fun." – The NIH/EDC Study Section
Appointment to membership on a study section of the National Institutes of Health is, after achieving tenure or full professorship, the veritable signal of arrival among academic peers and the more credible recognition of competence. To review others' work critically is an awesome responsibility, requiring deep study of the many grants submitted and full charge of presenting a half-dozen primary reviews at each quarterly meeting. There, the essence, brevity, and force of one's presentation sets the tone for the entire group in its consideration of a given application. This deliberation, in turn, is often a seminal event for proposers and for their careers and institutions.
Thus, these primary review assignments tend to usurp all priorities of the member in the days and weeks before the study section convenes; the honor and responsibility of review and criticism weigh heavily. The obligation to Study Section arrives, moreover, at the time of life when demands from one's own career and family are often at their peak. If scientific criticism is among the highest of human faculties, it is also among the greatest of academic and personal challenges and burdens.
I felt fortunate to serve on the Epidemiology and Disease Control (EDC) Study Section during the epidemiologically flourishing mid-1970s, and under the sage leadership of two chairpersons sequentially, first Joseph Stokes III, so broad, thoughtful, and kind, followed by Victor Hawthorne, so witty, self effacing, and shrewd. I was assigned primary reviews for innovative new work eventually granted to young investigators, among the second generation of observational studies and preventive trials on heart and blood vessel conditions. Section discussion was intense, its camaraderie strong. I also received members as site visitors in Minnesota and celebrated in D.C. the retirement of study section members in after-dinner musicals with famed local musos. I served contentedly alongside such stalwarts as Lew Kuller, Tom Choi, Tom Mack, Darwin Labarthe, Roger Williams, Curtis Meinert, Paul Leaverton, Bill Brown, and a coterie of other fine investigators.
But the greatest part of Study Section duty was being "one of the gang." It was a useful and heady time and almost always fun.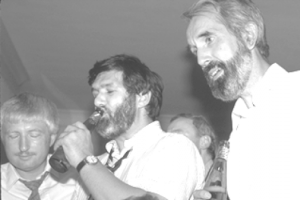 NIH/EDC Study Section members Paul Leaverton, Tom Mack, and Curtis Meinert, imbibe wisdom chez nous in Minneapolis