"It Isn't Always Fun." – Photographs and Documents
I share below, in no priority, examples from a personal collection of photographs and documents, not all of which have historic moment. Our history-compiling effort began formally on Anna Maria Island in January 2001. Depicted here in cabana are Kalevi Pyörälä, Darwin Labarthe, and Henry Blackburn.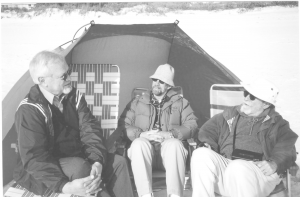 Early Classic Sources:
EarlClassics
Medical Marco Polos: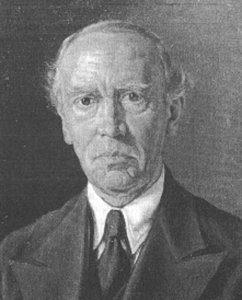 Cornelis  D. de Langen
1887-1967
Dr. de Langen is a major unsung figure in the history of CVD Epidemiology, geographic pathology, and the diet-heart hypothesis. His comparisons of Dutch and Javanese diet and culture date to 1916, and include differences of clinical atherosclerosis, diet, and serum cholesterol levels, with diet experiments to modify cholesterol levels. He was among the earliest to join clinical, laboratory, and epidemiological thinking in the cardiovascular field and he had a clear influence on subsequent researchers, especially Isadore Snapper and J.J. Groen (by permission from Acta Cardiol 1999, 34 (3).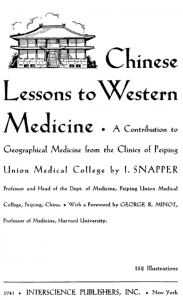 Dr. Snapper, a Dutch South African physician and colleague of
de Langen, was among the earliest to observe cultural differences in diet, serum cholesterol levels, and cardiovascular disease rates, in the 1930s in Asia. He also was early to hypothesize different effects of vegetable and animal fats and probably was the first to suggest a relative protective effect of dietary polyunsaturated fatty acids, after he found their association with low CVD rates in China. 
Stamler, pioneer prevention researcher, here noodling in  Japan, 1978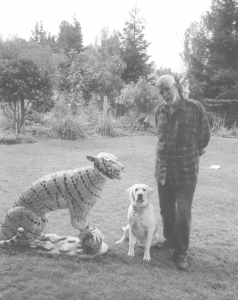 Dwayne Reed, long-time director of the Honolulu Heart Study, now doodles in sculpture and enology in Sonoma, CA.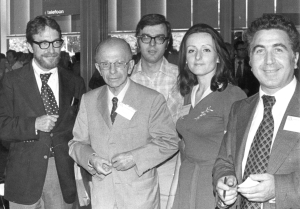 Blackburn, Den Haas, Demirovic, and Kosarevic schmoozing at ESC in Amsterdam, June 1976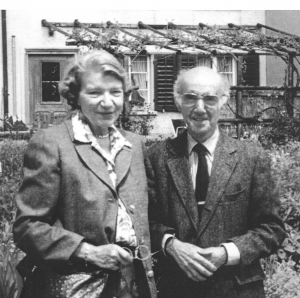 Doris and Fred Epstein musing at home, Zurich, Summer, 1995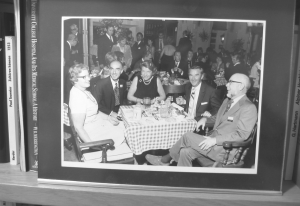 Epsteins and Wisslers with Gerhardt Schettler in palmy times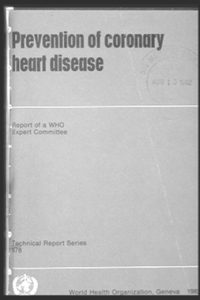 Milestone WHO Report on the Population Strategy of Prevention, Geneva, 1982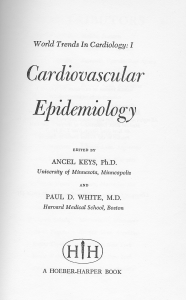 Report of the first Symposium on CVD Epidemiology,World Congress of Cardiology, Washington, September 1954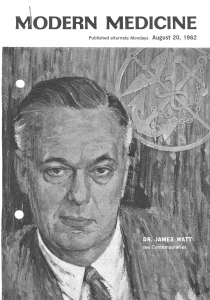 James Watt M.D. brought public health concepts to the young National Heart Institute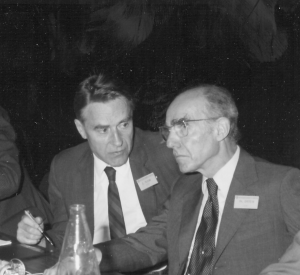 Zdenek Fejfar and Fred Epstein ponder strategy at the 8th European Congress of Cardiology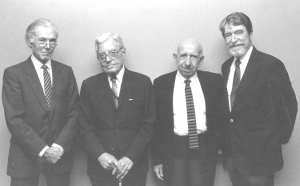 Geoffrey Rose, AncelKeys, Jerrry Stamler and Henry Blackburn celebrate the first AHA Ancel Keys Lecture in Dallas in1990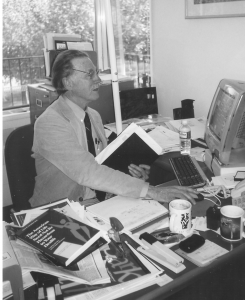 Pioneer of community-based prevention, Jack Farquhar, pushes health promotion at international levels in a world needing change.
Louis Katz, John Brock, Michael Oliver, Irvine Page, and Paul White
Gerry Shaper (with his wife Lorna) returned to the London School and mounted  the British Regional Heart Study after years in Uganda.
Job status can be hazardous to one's health, according to Michael Marmot. Here Sir Michael meets the Queen at sword point.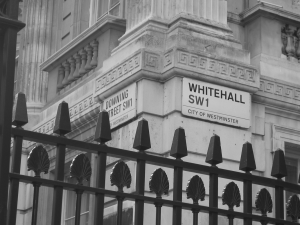 Whitehall Civil Servant Study discloses lifetime "effects" of vigorous physical activity and of job class.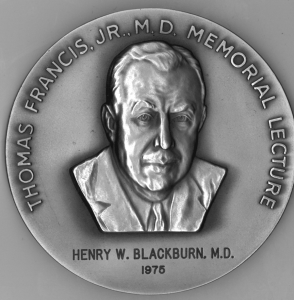 Tommy Francis, a traditional epidemiologist who directed the Polio Trials, also introduced chronic disease epidemiology to Michigan, with the Tecumseh Community Study.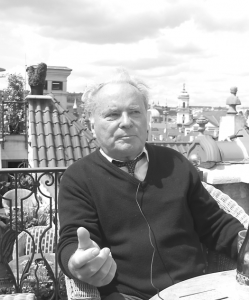 Zbynek Pisa reminisces about cardiology in WHO, atop Hotel Prince, Prague, in June 2002.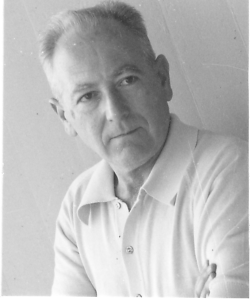 Tom Strasser was the leader in Hypertension for the CVD Unit of WHO after years in cardiology in Belgrade.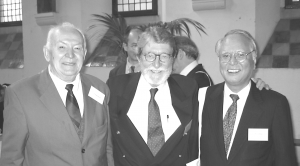 Seven Countries Study Colleagues celebrate 40-year follow-up, in Zutphen, the Netherlands, May 2002. 
Sjrejko Nedelkovic, Henry Blackburn, and Hironori Toshima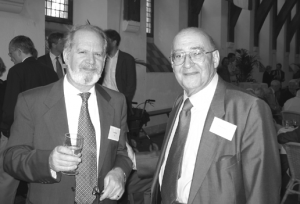 Alessandro Menotti and Flaminio Fidanza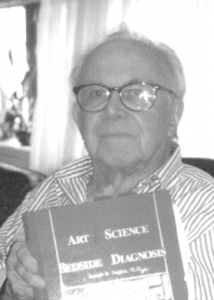 Cam Moses, long-time Medical Director and spark of the American Heart Association during its Enlightenment.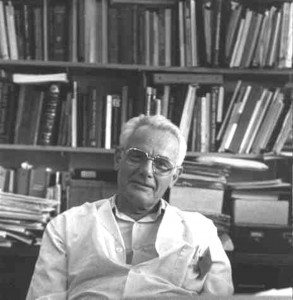 Bob Bruce, pioneer exercise physiologist and preventive cardiologist, who devised the Bruce Test of work performance.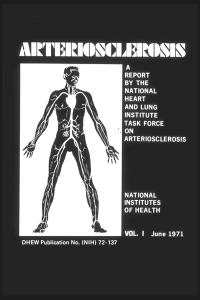 First official document announcing NIH program and policy to include bench, clinical, and epidemiological studies and trials, under Ted Cooper, NHLI director, 1971, launching decades of prevention research in cardiovascular diseases.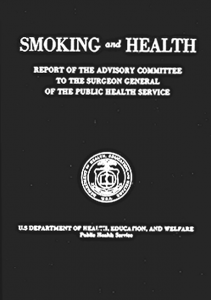 Landmark Report on Smoking and Health, under Surgeon General Luther Terry, in 1964. It included and emphasized epidemiological studies of smoking/disease relationships and redefined causal inference from statistical associations.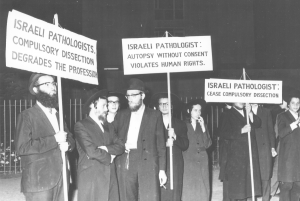 Early pathologist researchers in atherosclerosis had their political problems, evident at their international congress in Jerusalem, 1969.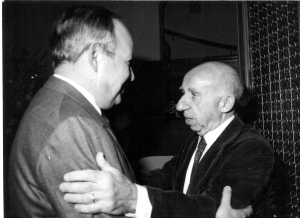 Hubert Hoffman of Bavaria meets epidemiological leader-gadfly, Jerry Stamler.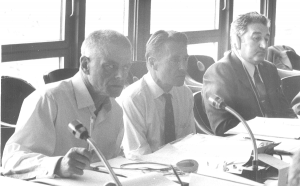 Jerry Morris and Comrade Akmetaly consult with Fejfar and WHO on Comprehensive  Community Programs in the early 1970s.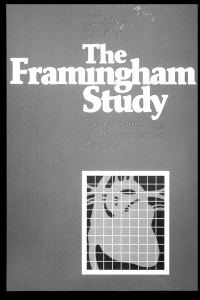 Roy Dawber let it all hang out in this down-to-earth account of the classic study he directed for many years. Here he was the first to complain and warn of Bethesda NHLBI efforts to control CVD epidemiological studies.
Ancel Keys prepared a demonstration of early computer techniques in CVD epidemiology before international cardiologists en route to the World Congress in Mexico City in 1962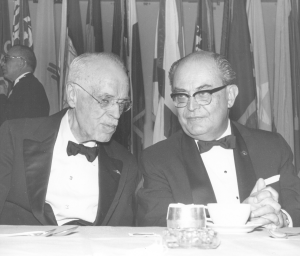 Paul White and Ignacio Chavez, two great leaders and powers from mid-century into the modern period of cardiology, in Mexico City, World Congress of Cardiology, 1962.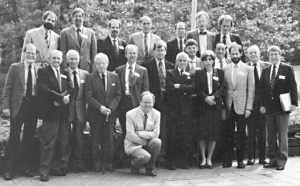 Seven Countries investigators' reunion and conference,  with host Daan Kromhout, in Zutphen, the Netherlands, 1991.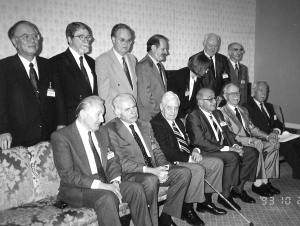 Repeat Seven Countries Reunion after 35-year follow-up, with host Toshima and special guest Epstein, in Fukuoka, fall 1993.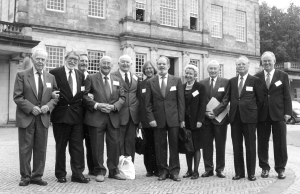 Encore: P-I's of Seven Countries in Zutphen, the Netherlands, May 2002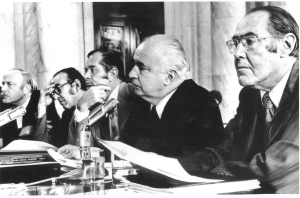 Historic testimony before Congress of UGDP Steering Committee about investigators' ownership of research data acquired at government expense, Tom Chalmers, Jerry Cornfield, Thaddeus Prout, Christian Klimt, and Max Miller.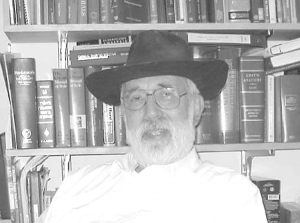 Sleepy Eye, Minnesota Cowboy, Curt Meinert, directed the Maryland Coordinating Center for the UGDP and CDP, and pioneered clinical trials.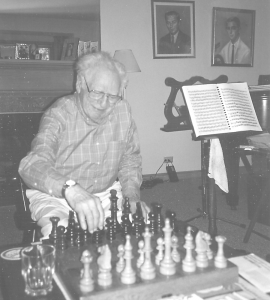 Reuben Berman introduced clinical trials into Minnesota, with units of most of the effective NIH-sponsored studies such as CDP, HDFP, and AMIS.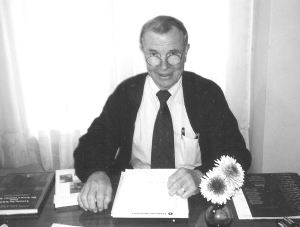 "Paff" continues productive in his classic researches with Dr. Lee on physical activity, athletism, and fitness, past and current, in populations followed for decades.
Ralph Paffenbarger at home.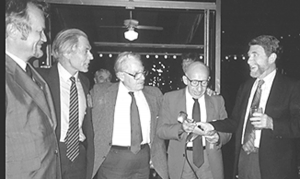 Five heavy hitters knock the ball around at the International Conference on Preventive Cardiology, Washington DC, fall 1986.
Kalevi Pyorala, Geoffrey Rose, Ancel Keys, Jerry Stamler, and Henry Blackburn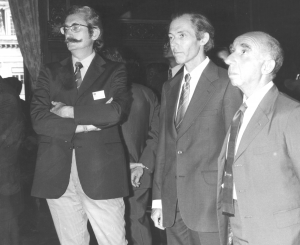 Three Biggies in Paris, 1973 
Dick Remington, Geoff Rose, Jerry Stamler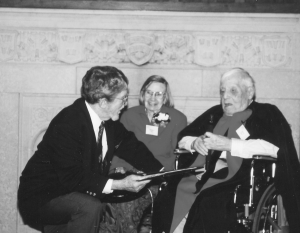 Ancel and Margaret Keys honored by the University of Minnesota, May 2001 
Doctoral Procession, Kuopio University, Summer 1982, with Kalevi Pyorala and Henry Blackburn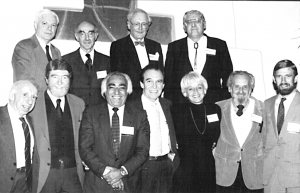 AHA Council on Epidemiology Presidents in 1991. Front: Jerry Stamler, Henry Blackburn, Nemat Borhani, Len Cook (staff) Elizabeth Barrett-Connor, Al Tyroler, and Darwin Labarthe. Back: William Castelli, Frederick Epstein, Joseph Doyle, and William Kannel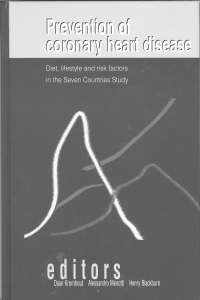 40-year follow-up volume of the Seven Countries Study, 2002
Volume celebrating 40-year follow-up data in the Seven Countries Study, 2002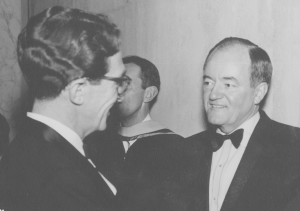 Author with The Happy Warrior, 1967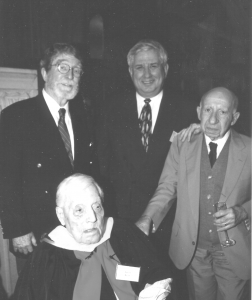 Henry Blackburn, Russ Luepker, and Jerry Stamler, with the Minnesota Warrior, 2001
Darwin Labarthe and Paul Leaverton discuss finer epidemiological history points, chez Henry and Stacy in Anna Maria, Florida, 2002.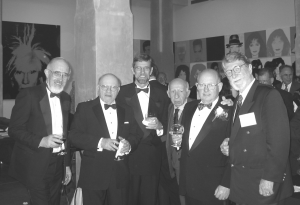 Bernie Goldberg, Lew Kuller's brother, Darwin Labarthe, Jerry Stamler, Lew Kuller, and Henry Blackburn, at the Kuller Retirement Fest in Pittsburgh, May 2003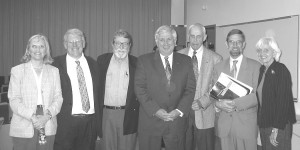 Conferees at the Oberman retirement fest in Birmingham, October 2003: Beth Lewis, George Howard, Henry Blackburn, Russell Luepker, Al Oberman, Darwin Labarthe, and Elizabeth Barrett-Connor.
Joseph Joossens of Leuven, Belgium, pioneer internist-"vital statistician" who connected diet (salt), stroke, and stomach cancer. Shown with Agnes on their 60th wedding anniversary.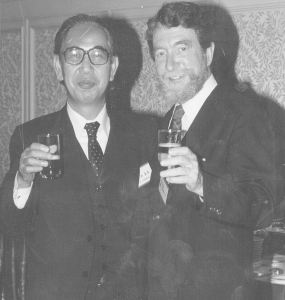 Author with Yoshio Komachi, pioneer Japanese internist-epidemiologist, on his 1992 inauguration as President of the Japan Public Health Association.
History buffs on Anna Maria Island, March 2002:
Darwin Labarthe, Henry Blackburn, Milt Nichaman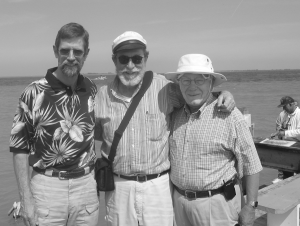 History buffs on Anna Maria Island, March 2002: Darwin Labarthe, Henry Blackburn, Milt Nichaman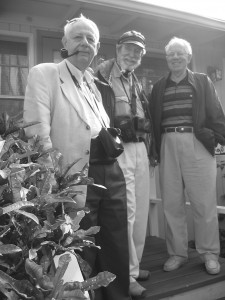 More historians gather on Anna Maria, in November 2003: Marcel Kornitzer, Henry Blackburn, Lars Wilhelmsen