"It Isn't Always Fun." – Optimal Plasma Lipids
Ernst Wynder was one of the outstanding entrepreneurs of modern American medicine. I became involved with him in the mid-1970s, not long after he organized the American Health Foundation, a non-profit research and public health enterprise in New York City. We were first thrown together on the Steering Committee of MRFIT, in which trial he and Peter Peacock and Charles Arnold directed the New York City unit.
Wynder's academic credentials dated from a pioneering 1951 publication with surgeon Ewarts Graham in St. Louis, a case-control study of cigarette smoking and death from bronchial carcinoma. They documented what Graham and Ocshner, leading chest surgeons of the day, were observing clinically and preaching  to any and all who would listen: squamous-cell carcinoma of the bronchus occurred almost exclusively among heavy cigarette smokers.
The Wynder-Graham clinical-epidemiologic demonstration, methodologically advanced for its day, was acknowledged by all in the field but never by any of the prestigious award bodies of medicine. (In fact, epidemiological analyses have never been recognized as deserving top awards. No epidemiologist has ever received a Nobel prize, or it seems, ever will, which should free the epidemiologist from inordinate pressure or envy.) Few people knew how this oversight ate away at Ernst Wynder for much of his life.
On other matters, Ernst and I were both concerned during the 1970s with the distorted idea in medical practice about what was a "normal" blood cholesterol level. Most clinical laboratory forms, for example, used a cut-point of 300 mg/dl to flag as "abnormal." We hatched the idea to gather representatives of each major medical research discipline and charge them with this question, insisting on their independent deliberations, and then to air and publish a report of the views of each specialty. We enlisted Barry Lewis to summarize the clinical data, Bob Wissler, the pathological, and me, the epidemiological. Each group of several experts arrived at Wynder's elegant quarters in the Ford Foundation in Manhattan and deliberated independently for two days, then presented summaries in plenary session.
Experts from each major research discipline had arrived at virtually identical conclusions. These, I suggest immodestly, were more elegantly exposed in the distribution curves graphed by the epidemiologists, who depicted current U.S. levels contrasted to "ideal" levels and to what we considered "feasible-to-achieve" levels of total serum cholesterol for Western populations. All in all, it was a satisfying and useful demonstration, with conclusions arrived at separately by leaders in the different disciplines. [At the time, representative population data on lipid subfractions such as HDL were not available.]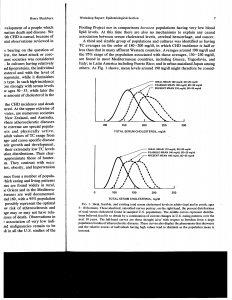 Ideal, feasible, and current (1970s) U.S. distributions
    of adult serum cholesterol levels.
La Concorde
During the weeks of conference preparation, Ernst courted me to become head of epidemiological studies for his foundation, as, I later learned, he had courted Barry Lewis, Peter Peacock, and several others along the way. I agreed to look over the opportunity on return from a speaking engagement in Paris later in the year. For that trip, the French had arranged as a special honorarium my return passage Paris-New York by Concorde. I loved every minute of the adventure: the elegant waiting room and flight accessories at Charles DeGaulle airport, the exotic if cramped quarters in the sleek craft, my gros bourgeois and celebrity flight companions, the strange noises and sensations and abrupt motions as we taxied and took off and climbed to 60,000 feet into a deep purple sky, and the rapid tumbling of the electronic airspeed indicator on the bulkhead directly in front of my seat. It quickly reached Mach 1, breaking the sound barrier without drama, then slowly and steadily moved to and beyond Mach 2, finally reaching the 2.2 cruising speed. This was followed by lunch of a delicious Chateaubriand and a premier cru  Bordeaux. Surprisingly soon came the stiff and graceless descent of Concorde into the airspace of JFK airport.
On land, there followed a comedy of errors. After the incredible 3.5 hour transatlantic flight from Paris, I waited 2 hours before my chauffeur, who had met the British Air Concorde from London rather than the Air France flight from Paris, discovered her error and located me pacing the floor in the Air France terminal.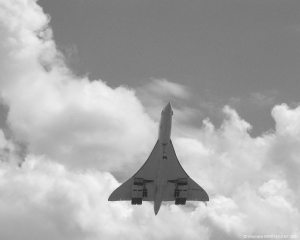 La Concorde
Valhalla
I hold two clear images from my subsequent weekend in Wynder's palatial estate along the Hudson in upstate New York: the somber black stone and forbidding face of his dark chateau deep in the lush, dank woods of Valhalla, and the bedroom wall display of photo portraits of his women companions over the years. These included, as I recall, the film star, Kim Novak. Perhaps 20 or so frames were crowned by a portrait of the castle's current lady-in waiting, waiting!
Wynder was so pleased with our combined three-discipline conference that he organized another on ideal blood lipid values for youth. There Wynder and I agreed to disagree because of his terms. He insisted beforehand that the conference call for universal screening of children's blood cholesterol values. This I could not accept, at least not a priori. So Gerald Berenson chaired the conference.
I greatly admired Wynder's flow of ideas, his attractive school-based health promotion programs, and his urbane sophistication and facile dealings with the rich and famous. I sensed, however, that I would be uncomfortable working in his glittery world of celebrity and high finance.
Following Wynder's citation of Ancel Keys and me in the Dana Award for Preventive Medicine in the late 1970s, I lost touch with him. He was a bright, colorful, and enterprising investigator who, in the long run, did much good, both alone and through his institution. I was saddened when, some years after our collaboration ceased, he phoned to ask if I would nominate him for the prestigious General Motors Award, which I was pleased to do. He clearly deserved greater acknowledgement of his pioneering research and for the first documented report on cigarettes and lung cancer.  But at the time of his almost plaintive phone call it occurred to me that, "at a certain age, one might allow oneself a little pleasure in hearing nice things said about one, but neither need nor seek to hear them." (see True Stories, "A Certain Age," below).