"It Isn't Always Fun." – Joseph Anderson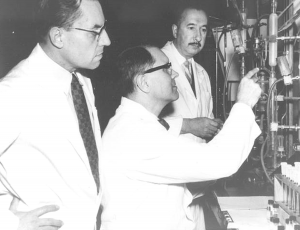 Ancel Keys, Joseph Anderson, and Francisco Grande in the Laboratory of Physiological Hygiene Chemistry Lab in the early 1960s
A Eulogy
Prospect Park Methodist Church,
Minneapolis, September 3, 1985
The scientific and personal characteristics of Joe Anderson are inseparable. His contributions to knowledge were immense.  He remained throughout his life "an investigator's investigator," avoiding the academic hustle and bustle. Rather, he focused on important questions and the best ways to answer them.
Joe Anderson's more profound contribution was in the collaborative diet experiments he planned and carried out with Ancel Keys and Francisco Grande, with the technical assistance of Nedra Foster. Together they defined mathematically the relation between habitual diet and blood cholesterol level that resulted in what became known as the "Keys Equation." This series of diet studies in the metabolic ward, and the resulting statistical summary, established firmly in the mid-1960s the critical role of diet on blood lipid levels, and eventually, on coronary disease risk. The equation clarified and quantified critical basic phenomena about the effects of fatty acids and dietary cholesterol and led to new questions when the observed data failed to fit the predicted, such as the neutral effect of stearic acid in chocolate.
Joe Anderson, as the biochemist and chemistry laboratory director, was central to all the solid work in the Laboratory of Physiological Hygiene from the early 1950s until recently. He worked with many of us to explain the discordance between individual and population levels of blood cholesterol and nutrient intake. During MRFIT in the 1970s, Joe successfully simplified the Keys, Anderson, and Grande equation for use in individual diet prescriptions and in education about the cholesterol raising or lowering effects of foods. These findings have stood the test of time.
Joe Anderson was early among chemists to recognize the need for and to develop methods of laboratory quality control so that diet experiments and population comparisons could be made with validity and precision around the world.
Throughout his professional life, Joe's personal qualities shone through. You know them well: integrity, conscientiousness, fairness, openness, humility, and kindness. In his science as in his politics, Joe searched for peace and understanding, for reconciliation among peoples, and for resolution of controversy.
Joe remained effective to the end in his working life but wisely reduced his activities after a 1972 heart attack. This may have contributed to his long survival and rich life with us and with Gwen and their family. Only last week we had a new idea together for another look at data from his metabolic ward studies of 20 years ago. And only last month he sat with us to plan the teaching of nutrition in the new Division of Epidemiology.
The community and we will miss Joe actively. Today I want, however, to convey to all assembled friends and family that Joe Anderson earned the immense respect as well as the affection of his scientific colleagues around the world. I am particularly happy to convey this message to you during this celebration of his good life, on this calm and sunny evening with its mood befitting the calm and sunny character of Joseph Anderson.