"It Isn't Always Fun." – John Vilandre
Division of Epidemiology Recognition Event
Minneapolis, MN
December 18, 2002
John Vilandre has been for 40 years a central person in the work of our division at Minnesota. He always did his best at whatever of the many tasks we asked of him. He was always there — reliable, calm, competent, and gracious. He gave the Division his entire career in expertise, continuity and devotion. Our origins, our transitions, and our final contributions were in real measure created and strengthened by John's fine work.
Once in a long while, someone comes along who truly fits. Someone who becomes a critical part of the engine that drives the machine to perform exceptionally well, pull weight, run quietly, and go the distance.
John Vilandre is that someone in our machine. His ability to evolve took him from laboratory guinea pig to technician to analyst to computernik, then to systems builder and section manager.
For these reasons, calm efficiency and evolving skills, John has played a crucial role in the evolution and the contributions of this division over the years.
John, you will be missed. And I personally will miss us being the last two standing, in years of service, come next holiday season.
Bon voyage, Vilandré!
Vilandre Retirement Tea
December 19, 2002
I have this delightful book for you, John, entitled "Piano Shop on the Left Bank" and in it, Luc, a very philosophic, very French piano tuner tells us: "Life is a river. You just have to find a boat that floats."
I think John Vilandre found his boat at the Laboratory of Physiological Hygiene, later rechristened the Division of Epidemiology.  He has rowed it skillfully and devotedly for 40 years, kept it afloat in troubled waters, guided it around tricky shoals, and led us into the calm.
Now John, you can put in the oars and break out your fishing pole. You can even take aboard your piano, prop open its cover and play away, floating happily downstream on the river of retired life. I can assure you, John, that the best is just around the bend!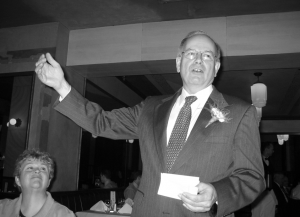 Rose Hilk and John Vilandre at the Un, Deux,Trois Restaurant, retirement dinner, Minneapolis, December, 2002