"It Isn't Always Fun." – A Junket "Down Under"
David Haye, the fine cardiologist who for some years headed the New Zealand Heart Foundation, had tempted me at international meetings with a standing invitation to lecture "down under." Over the years, moreover, I had expressed to my epidemiologic colleague, Ian Prior of Wellington, my ambition to visit his studies of Pacific Islanders and to ski the Mount Cook Glacier while I was able. Prior and Haye came through with a grand invitation for the fall of 1977, which I accepted happily. Unfortunately, their springtime was not a good skiing season.
I had heard that in both New Zealand and Australia, visiting Cardiac Foundation lecturers truly earn their keep and are driven hard, so I confess to having a premonition about the difficulties of the tour.
Nelly and I touched down at Auckland after a 20-hour journey from Minneapolis, and thereafter, for three weeks, life was an uninterrupted, seemingly interminable series of talks and addresses. They started early each morning with university faculty or hospital house staff, continued with hospital auxiliaries in the late morning and a Lions Club or Kiwanis luncheon talk, then back to hospital rounds and conferences in the afternoon, followed by after-dinner evening lectures in varied community settings.
Beforehand, I had pretty well polished a couple of editorial slide lectures and was at the time preparing a chapter, "A Public Health View of Diet and Hyperlipidemia," for a monograph edited by Bob Levy. I also was full of plans for community-wide surveys and interventions in Minnesota. These topics all became  melded into one basic lecture, adjustable in length and depth for a particular audience. [I hope that Ian Prior learned to "tune out" after hearing that lecture for the umpteenth time.] I became like the politician on a national campaign who is forced to hear himself emote over and over, using the same witticisms, evidence, and theories. Soon one becomes bored, even ashamed of the repetitions. Yet there is no way to dredge up new data or new ideas while on the hustings.  I certainly had no speech writer along.
Eventually, we took a break in the tour. Ian and his charming wife, Elespie, accompanied Nelly and me to the Huka Lake Fishing Resort for a weekend, all because I had expressed an interest in fishing. New Zealand, I had heard, may be the last place on earth where one can catch genuine California rainbow trout, the eggs having been brought over in the mid-19th century. Today, I understand, the California rainbow in many streams of our northwest is, in fact, a brown trout hybrid.
Huka Lodge meals were served at a large oval table seating 12 comfortably, where the owners attempted to provide the illusion of a family gathering. We were invited for cocktails and to warm ourselves fireside after the day in the cool mists of the stream. Deerskin coats and jackets were on sale for substantial sums, displayed in cabinets about the living room. Dinner consisted of a different wild game dish each evening. 
Ian and Elespie were kind and patient throughout the long tour. All he got out of it, as far as I know, besides the loss of focus on his marvelous researches (among Pacific Islanders in their natural environment versus that as emigrants to New Zealand), was his first-ever fishing trip. At Huka Lodge he caught a nine-pound rainbow trout that he immediately had smoke cured. This success was despite his amateur casting, from which he became comically entangled in fly line. I was luckier fishing but had an unhappy physical reaction to the wild game or perhaps to the heavy local red wine, which set me off my feed for some days. Nelly's and my trip to the most famous fjord in New Zealand, Milford Sound, was spoiled a bit by this indisposition.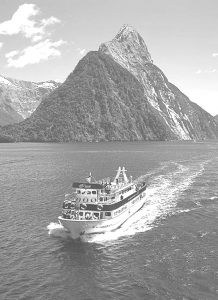 Milford Sound, New Zealand
One of the more amusing aspects of being guest lecturer in New Zealand was recognition as a sort of celebrity by citizens on the streets. New Zealand, you see, had but two TV channels and I figured prominently in the evening news wherever we went. Thus, I was often greeted by passersby: "Mornin' Professor. Caught you on the telly last evening. Good show!"
In the end, I didn't get to ski Mount Cook glacier but we did ascend the Cook range by cable car. It was a dangerously heavy spring-snow season for high alpine skiing. We also visited Maori villages and museums of indigenous and emigrant islanders and we must have seen at least half of the estimated 60 million sheep on those magnificent islands. In one volcanic spa we were alarmed, after getting comfortably ensconced in a hot springs bath, to read a warning affiche: "These waters should not enter the nasal passages for fear of transmission to the brain of the rare amoeba found here. There is no cure for its infestation!"
New Zealander folks, both the public and professional colleagues, were uniformly kind, thoughtful, quiet, industrious, and veddy, veddy Anglo-Saxon. Also I found them rather comfortably adapted to the real limitations of their island culture and economy (and the vagaries of the British markets for lamb and wool). Most of them thought in terms they considered appropriate to those limitations and our grand approach, with megapopulation surveys and community-wide interventions, was quite beyond their ken. The lack of resources required them to be innovative in design of whatever population studies or campaigns they did carry out.
Gala Farewell
In the last days of our tour, much activity pointed toward the final National Heart Foundation annual dinner, lecture, and dance at Wellington Pier, a grand structure extending several hundred yards along the port and designed to accommodate the largest cruise ships. It had been completed just at the time that the cruise industry in the mid-70s went into a nosedive. But the Pier was festive this night, with a lovely cocktail hour and reception and banquet attended by many hundreds of Heart volunteers.  My now-threadbare popular lecture went on apace, and the evening culminated in a grand ball in which I was featured artist with a local jazz band. It was a relaxed and happy conclusion to a long and rigorous Foundation tour and it was good to be done.
Shortly before midnight, Nelly and I bade our friends adieu and left the gala scene for the hotel with the hope of sleeping a few hours before our departures, Nelly to Tahiti and home, and I contrariwise around the globe, through Sydney, Perth, Johannesburg, Cape town, and Rio to home. Still "high" from the excitement of the evening, I suggested that we ascend to the hotel bar on the top floor for a nightcap, where we joined others seated around the pleasant piano bar. There we discovered a superb pianist who had the characteristics of playing that I enjoy accompanying. Not wishing to upset the rapport I had quickly developed with him, I asked Nelly if she would be willing to descend a couple of floors to our room and pick up my soprano saxophone and bring it up so that I could play a few tunes with him.
After some moments, Nelly returned to the bar looking pale and agitated. She placed my colorfully labeled sax case on the piano top and indicated that there had been "a small accident."  I opened the case to find that my straight soprano saxophone was now curved. In my hurry to leave the banquet hall I probably had not fastened the case properly. In her hurry to meet my needs, she grabbed the handle without checking the case closure. Then, while she was running up the stairway to save time, the case came open and my saxophone bounced down two landings — sickeningly.
I placed a reed on the mouthpiece and blew; no sound emerged. I was crushed. Nelly was devastated. And that dear old horn, my first soprano saxophone, a 1920's model Conn that I had since the fall of 1960, was not playable. Moreover, I had a 7:30 a.m. departure for Australia the next morning, where the next afternoon I was expected to perform with the New Orleans jazz band of Geoff Bull on an island in Sydney Harbor.
As I was bemoaning this fate, a couple sitting across the piano bar heard it all and made sympathetic clucks. They indicated that they had attended the Heart Foundation ball and had enjoyed our band and then asked whether I knew that the drummer in that band was a reed repairman? And that, in fact, he had a shop, The Golden Horn, just down the street!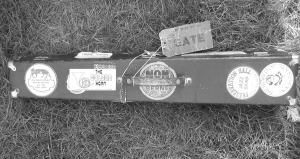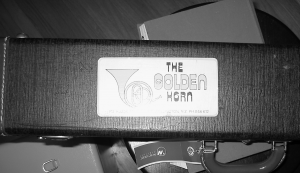 The obliging wife of the couple left the bar to call the repairman at home — at midnight. In a remarkable act of a Good Samaritan to a fellow musician, he opened his shop and worked through the night on my horn, delivering it whole to my door at 6 o'clock in the morning in good time for me to catch my plane.
That horn is still my favorite. I play it almost daily. It has required no more than minor adjustments and a few pads since that episode many years ago. I sing his praises still and all my horn cases carry stickers of the "Golden Horn," the instrument shop in downtown Wellington, NZ.  I recommend that you, too, stop by there for a chat on your next visit down under.
*  *  *