"It Isn't Always Fun." – A Caribbean Cruise for Science
Crown Prince Harald of Norway made a gift to Minnesota in the 1970s to support planning for an American version of the innovative Norwegian Beitostølen Health Sports Center for the disabled. The charismatic blind director of the institute, Erling Stordahl, lobbied for the idea with the Norwegian government and at a 1976 White House Conference got the enthusiastic endorsement of Roger Egeberg, HEW Assistant Secretary for Health. Stordahl and Prince Harald presented him a check for $250,000 for planning a sister American institute. Minnesota Senators Humphrey and Mondale joined the effort and Tor Dahl and Art Leon of the University of Minnesota headed up the search for matching funds from Minnesota. Gordie Amundson of the university's continuing education department worked with Dahl, Leon, and me on the conference program to develop a vision for the center to be called The Vinland National Center. Ancel Keys was named co-chair of the conference, Tor Dahl, Norwegian and member of our faculty, co-chair. The ebullient Sons of Norway Foundation signed on the big guns and politicos. Norwegian-American Lines sponsored the shipboard site aboard their M.S. Southward flagship in the last week of June, 1978. For that week I found myself pretty close to a vision, however evanescent, of Academic Heaven on Earth.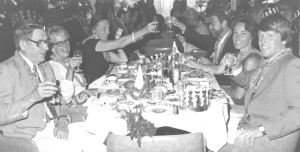 Taylors, Haskells, and Blackburns aboard M.S. Southward, 1978
Put yourself, please, in our place: a first-class cruise experience with spouses, in bright, balmy seas, with great companions, excellent scientific discussions, a luxus night life, and new adventures snorkeling in crystalline turquoise waters and picnicking on tropical shores. As lagniappe, for me, there was a top-of-the-line New Orleans-style jazz band from Norway who welcomed my participation at each close of day!
A spirit of Scandinavia-Minnesota camaraderie was brought to our cruise conference by co-chair Tor Dahl and by Kjell Bergh, leader of the Sons of Norway, and Carl Platou, chair of the Vinland National Center Board. One must admit that Norway and Minnesota are two special places, with solid, enterprising, and fun-loving citizens. Moreover, Norway's ships of the line are impeccable, their crews dashing.
Dr. Roger Egeberg, Congressman Paul Rogers of Florida, who headed the health committee of Congress, with Ruth Ryste, Norwegian Minister of Welfare, gave legislative imprimatur to our deliberations. Ancel Keys, Henry Taylor, Bill Haskell, Art and Gloria Leon, Gudman Harlem, Sir Ludwig Guttman, and Erling Stordahl lent intellectual weight. Raymond Keith, sightless delegate from the U.S. Office of Civil Rights, gave a strong sense of purpose for our fine cause. It was a delightful balance of good cause, people, program, and adventure. The Vinland National Center, born that week on board the Southward in a great sea of good will, does its job still today in rural Minnesota.
One person's adventure is another's trifle, I warrant. But I recall, 25 years later, one particularly remarkable episode from that cruise. In a quiet reception after a good day's intellectual work, all was tinkling glasses and soft voices when the stunningly handsome East African wife of Kjell Berg, Maria, began to recount the poignant story of her upbringing  by nuns in an African orphanage and how on one occasion she shocked the nuns to the core when, in adolescent enthusiasm, she broke into her flamboyant native dance. Abruptly, before our startled eyes, she launched into a full demonstration of this crane-like, high-stepping fantasia, leaving us breathless at the dance's violent emotion and exotic grace.
On return of the M.S. Southward to the Port of Miami, Nelly joined the Sons of Norway for the flight home. They meanwhile had engaged the Norwegian Jazz Band to return with them to Minnesota for Scandinavian Days, where in a few days I would join them all happily assembled at the Emporium of Jazz. I, on the other hand, had been so taken with snorkeling on the cruise that at Miami airport I hopped a local flight in an old DC-3 to Matecumbe Key where I extended my stay for a few exquisite days of diving over the Florida reef. But that's another story.
The Southward Conference was my first and last Caribbean cruise and the penultimate travel adventure together for Nelly and me. There was, moreover, little professional or social follow-up for us from the Vinland shipboard conference. I attended a couple of somewhat fractious meetings of the new center's Board of Directors. A short time later, the Sons of Norway asked that I put together a jazz band with Butch Thompson and other Scandinavian types and also give a luncheon talk for a Norwegian Club Torsk Luncheon at the Camelot Restaurant.
Imagine  this, if you can, under the bright sun of a wintry Saturday noon in Minnesota: playing New Orleans Jazz, sipping chilled aquavit, dining on broiled Torsk and new potatoes dripping in butter, followed by more New Orleans Jazz and then the after-luncheon lecture. Feeling no pain (I speak not for my audience), I delivered a post-prandial slide lecture on clean living and healthy eating for heart attack prevention.
The Norse Vikings are still more hardy than the Anglos they pummeled and pillaged a thousand and more years ago.
Chalk it all up to fun.
But, as we all know, it isn't always fun, as the following year would reveal.