Rose Steinberg Stamler, MA
1922 — 1998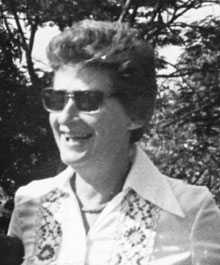 Rose Stamler was centrally involved in the epidemiology of hypertension from its early cohort studies and trials. She was born Rose Steinberg in New York City and educated at Brooklyn College from 1939 to 1941 and later at City College where she met her future husband, Jeremiah Stamler, in student activist groups during World War II. After their marriage, she received a combined BA/MA in sociology from the University of Chicago in 1962. In 1972, after several years of working in research institutions and hospitals in the greater Chicago area, she joined the faculty of the Northwestern University Department of Preventive Medicine as an assistant professor. There she studied CVD risk in several Chicago cohorts and was a principal or co-investigator of national prevention trials in hypertension and CVD throughout the 1970s and 80s, in which her research focused on non-pharmacologic strategies of reducing blood pressure, with particular interest in potential racial and socioeconomic differences in risk factors.
After years of activity in CVD epidemiology and prevention she became a leader in the National High Blood Pressure Education Program, in the NHLBI report on "Primary Prevention of Hypertension," and as Co-director of the International Ten-day Seminar in CVD Epidemiology. In later years, she played central roles in two on-going major cross-cultural studies of micro- and macronutrient effects on blood pressure in individuals and whole populations, INTERSALT (involving some 10,000 people in 32 different countries) and INTERMAP (studying 4000 people in four countries). In addition to the global impact from these two major studies, she also facilitated the development of population studies in Italy and the People's Republic of China.
Other than her passion for CVD epidemiology, her friends and colleagues remember her profound desire for justice. The defense that she coordinated for her husband, Jerry Stamler, in his 1965 litigation with the U.S. House Un-American Activities Committee, was probably a major deciding factor in the dissolution of that committee in 1975. (EH)
Sources
Henry Blackburn
Adapted from: Elliot, Paul. "Rose Steinberg Stamler, 1922-1998." Journal of Human Hypertension 12 (1998): 657-658.