Anastasios Dontas (1921-2016)
Dontas, Anastasios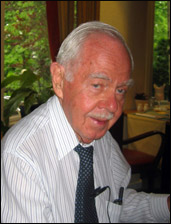 View Bio Sketch
"Andy" Dontas, "Tassos," was a pioneer of cardiovascular disease epidemiology, initiating field studies in 1957 in Crete. Born in Athens, he was educated at the University of Athens where he received an MD in 1946 and Ph.D. in 1948, after which he was a Fulbright Scholar at the University of Michigan and a Research Fellow at the Laboratory of Physiological Hygiene at the University of Minnesota.
Dontas early made himself known to Ancel Keys, and, along with Christ Aravanis, invited Keys to explore the "population laboratory" of the Greek Islands, where the diet was known to be relatively high in fat (mainly from olive oil) and the people rumored to have good health and long lives. A pilot study on Crete in 1957 demonstrated access and recruitment success that was followed by the engagement of the men of Crete and Corfu in the Seven Countries Study. This led eventually to the finding of record low rates of coronary heart disease, low all-cause mortality, and remarkable longevity in the islands during several decades of follow-up. This study helped introduce the world to the Mediterranean Diet and lifestyle.
Dontas made particular contributions to the study of renal and pulmonary function in aging and was an international leader in gerontological practice. To his colleagues he was a scholar foremost, grounded in Greek history, philosophy, and mythology who  gently informed his colleagues when their culture was inadequate. He was a historian of the arts, a perfectionist administrator, a deeply curious academic, a warm friend, and a personal dynamo. In retirement he remained actively writing at home in Athens until his death in 2016 at age 95 (HB).
Related Content