"It Isn't Always Fun." – Nedra Foster Conrow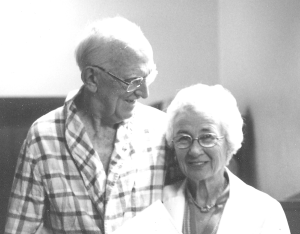 Nedra Foster and "CVD Study" Participant Karl Anderson, early 1980s
A Eulogy
First Methodist Church,
Dunedin, Florida
February 24, 1997
This photograph captures the warm affection felt by the thousands of study participants whom Nedra harbored through our Minnesota researches over her four decades of service. In a lovely celebration in Florida of Nedra's life, I was introduced, among other things, as Nedra's "boss" of many years. I quickly responded in contradiction: "As Milt Conrow and most of you know, Nedra had no bosses; there were colleagues and collaborators and friends aplenty, but we were hardly her bosses."
I then read to the assembly some words sent by Dr. Keys from Italy, explaining how he had originally hired her at the Lab and supported her and depended on her efforts over the years. Then I made the following remarks:
Professor Keys is correct. Nedra ran the Lab at Minnesota. But with, oh, such a light and special touch you weren't aware she was running things. She just simply, quietly, effectively made things go.
In the beginning, Nedra brought to the Lab many skills from her training. But soon, with consummate professionalism, she acquired the new skills needed as the variety of research programs in the Lab expanded. She had to become a very specialized chemist, a nutritional chemist, a practicing nutritionist, even a x-ray and a laboratory technician, a master organizer and scheduler, and then a major administrator with extensive accounting and personnel responsibilities.
The work of the Lab when she joined it was in human biology, studying the effects of the stress of exercise, semi-starvation, heat and cold. These activities expanded to studies of health and disease and of diet and risky behaviors in whole populations outside the laboratory or clinical setting. It was a brand new field of prevention research called cardiovascular disease epidemiology.
For Nedra, this new career began in earnest with Henry Taylor's study of U.S. Rail men. Nedra and I worked with Henry all one summer supervising the renovation of an old Great Northern Railroad sleeping car into a mobile laboratory with exam rooms, exercise testing and electrocardiographic areas, an X-ray unit, and a wet lab. Then we took this remarkable contraption on the road.
Nedra went to each switchyard with us, from Grand Forks to Spokane to Pasco to Portland to San Francisco, to Milwaukee, Chicago, St. Louis, and back again. First she trained and rehearsed the survey team. Then she saw that our mobile lab was hooked up to water, steam, and power. Then she kept those tough switchmen and maintenance-of-way men moving and motivated through an efficient exam schedule. She was at the center of all our efforts in the field. Finally, when things were going smoothly at each site, she hopped a train back home to her usual heavy job.
Nedra played a central role in coordinating the far-flung activities of the Seven Countries Study for more than a decade starting in 1957, managing the collection of data and serum and food samples as we studied the relationship of diet and lifestyle to the risk of heart attack in rural populations of 18 areas having contrasting diet habits.
Earlier Nedra was also key to the first longitudinal study of heart attack risk in American men, the CVD Study of Twin Cities leaders, starting in 1947 and going on for 30 years. Those men, mean age 50 and healthy at the outset, ranged from our deans at the university to the CEOs of Honeywell, 3-M, General Mills, and Pillsbury, and to Governor Luther Youngdahl. And they came in faithfully for annual appointments, primarily because they knew that Nedra wanted them to; they wanted to see her first and last at each visit. She kept them moving and happy with an efficient schedule, a cheery line of patter, and a delicious pancake brunch served after their testing was done.
On top of all this, Nedra early on had the central responsibility for a series of metabolic diet experiments led by Keys, Anderson, and Grande in nearby hospitals, where diets of subjects were closely controlled and measured and then changed at intervals. It required great precision in administering the diets and analyzing the food leftovers, and keeping the subject's weight constant and the staff motivated. Sixty or so of these experiments carried out in the '50s and '60s were used to produce the Keys Equation, a classic formula that even today is the best way to estimate the effect of diet fat and cholesterol change on the level of blood cholesterol. Nedra ran this study as a tight ship.  She is importantly responsible for this major enduring scientific contribution.
In the mid-60s, our Lab became one of five national centers of the Diet-Heart Study, another classic study that showed it was feasible to lower blood cholesterol in free-living people who were educated to choose and prepare their meals. She set up one of the best operations of the whole national study and housed it in yet another satellite of the stadium, this one above Stub and Herb's Bar, corner of Oak and Washington in Minneapolis.
Ancel Keys retired in 1972 and I took his chair. Then it was that Nedra, now widowed, saved the life of the Lab and, in effect, my professional life. I brought little supervisory or administrative experience to my new job and could not read a budget intelligently. She kept things going effectively as we expanded from a laboratory operation to a major academic department. We recruited many faculty and staff and hundreds of participants to grand projects in the '70s, projects designed to prevent heart attacks in people with high blood pressure or high cholesterol and smoking habits. We could never have done it without her.
And just when things were going well for us, along came this apparition from her past, Milt Conrow, who had long been a friend of Nedra and her first husband, Wayne Foster.
You did right to steal her away Milt, and I didn't hold it against you. But you must know that for a long time it was tough going for us without her.
I believe that Nedra and I always had for each other the highest mutual respect and personal regard. I noted with a certain pleasure that when things around the University got awfully informal and familiar if not disrespectful during the student rebellions of the '70s, Nedra still addressed me in public as "Dr. Blackburn." She had high standards of conduct, all right. The only whiff of suspicion I ever had that I might not have passed muster with Nedra was soon after I took over direction of the Lab. Finding Dr. Keys's old office too brightly lighted, dun-colored, and cold, I proceeded to put in a table, floor lamps, and throw pillows and had mounted a colorful Ecuadorian wall hanging  and framed pastoral scenes above the old leather couch. I thought this created a more comfortable, warm, low-key atmosphere in which to work and receive laboratory guests.
But Nedra peeked in my office one day in my absence and, it was later reported, whispered disapprovingly to our chief secretary: "My, my, that office is getting to look more and more like a boudoir!" (see photograph below) Neither of us really changed our ideas. Good friends and colleagues tolerate each other's eccentricities. But I confess to turning up my office illumination a couple of notches after I heard about Nedra's private opprobrium.
I am happy to share today with Milt and his family, and with Nedra's children Bob and Corrine and their families, this celebration of Nedra's beautiful life. I also want to express the admiration and gratitude of Nedra's professional colleagues in Minnesota and around the world, who I represent here today, for the remarkable way that Milt has cared for Nedra over the years of their companionship and in the last years of her worsening confusion. He did the little things so important to her peace of mind. For example, he would dial us, her friends, when she was troubled by the certainty that she had some major work responsibility to accomplish the next day, so that the friend could reassure her that "all was taken care of and she didn't have to come in to work." And the bigger things he did, bringing her to conferences in Minnesota and Pennsylvania where the work of the Lab and her role in it was being recognized at major milestones, and where, though she was confused, he would see to it that eventually she understood what was happening and why she was there. And then, finally, how he carried her through her terminal illness that was gratefully short-lived.
Nedra was admired and respected in her profession, just as she was adored in her personal life. She was truly a good person. Her goodness was quiet and unpretentious and flowed from the heart. Yet, when one made some attempt to acknowledge her goodness, she was embarrassed, protesting that she was simply doing what was right or fair — doing what had to be done.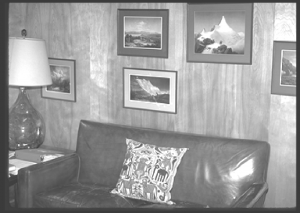 The new Lab director's office-boudoir?