Jeremiah Stamler, MD
Born: 1919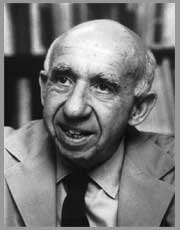 "Jerry" Stamler was born in New York City and received an M.D. from the Long Island College of Medicine in 1943. After Army service he became a research associate with Louis Katz in the laboratories of Michael Reese Hospital in Chicago. He and Katz worked for years on interactions of diet, hormones, blood pressure and lipids in experimental vascular disease, producing a classic monograph in 1958: Experimental Atherosclerosis . His first epidemiological pursuit was an article on trends in vascular mortality written with the nosologist Yerushalmy. In his first clinical trial he administered estrogens to men post-infarction, resulting in a dramatic example of unintended (negative) consequences.
Stamler's middle research years were engaged in parallel observational studies in Chicago cohorts and prevention trials of single and multiple risk factor reduction, first with a base in the Chicago Department of Health and then at Northwestern University, where he built an effective Department of Preventive Medicine.
Latterly, Stamler and his wife Rose, with collaborators in London, adopted an efficient cross-cultural design to pursue residual questions on the relationship of salt, protein, and other nutrients to hypertension in individuals and entire populations: the INTERSALT and INTERMAP studies.
The Stamlers provided international leadership in research and training for CVD prevention and were models for applying sound evidence to public health advocacy. Following the death of Rose Stamler, Jerry remarried. He and Gloria travel and work, in "retirement," between Pioppi, Italy, Chicago, and Long Island.
Sources
Oral history with Darwin Labarthe, August 2002.
Mitka, Mike. "Jeremiah Stamler, MD: Researcher, Leader in Cardiovascular Disease Prevention." JAMA 292 (2004): 1941-1943.
Related Content
Audio Clips
Essays
Oral Histories
Photographs
Study Synopses