Isidore Snapper, MD
1889 — 1973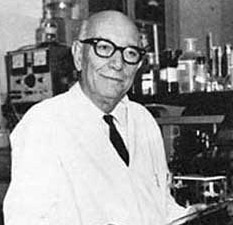 Isidore Snapper, an influential and highly regarded Dutch teacher and investigator, began his medical education at the University of Amsterdam in 1905. Under the guidance of Professor Pel, Snapper gained early exposure to experimental medicine as a fellow of the Imperial Cancer Research Fund in London for six months in 1909. After graduating in 1911, Snapper joined the enlightened service of physiologist H. J. Hamburger and internist-chemist Hijmans van den Bergh in Groningen, where he explored the relationships between physiological research and clinical medicine and wrote his thesis. When van den Bergh left Groningen in 1918, Snapper returned to Amsterdam where he promoted an interdisciplinary approach to medical research and discouraged over-specialization. His own studies centered on kidney metabolism, diabetes, and diseases of the skeleton.
By 1938 the political climate impelled Snapper to search for employment outside Europe, and he sailed to New York to meet with representatives of the Rockefeller Foundation and was promptly appointed Professor of Internal Medicine at the Peking Union Medical College in China. There he made his contributions to research on the epidemiology and prevention of cardiovascular diseases in observing Chinese contrasts with Westerners in heart disease rates, in average blood cholesterol levels, and in diet, attributing protection to plant foods and linoleic and linolenic acid intake. He published these observations in Chinese Lessons to Western Medicine in 1941, shortly before he was taken prisoner by the Japanese military. He was exchanged for Japanese diplomats captured by the Dutch in Indonesia and then returned to the United States where he became medical advisor to the Department of War in Washington, DC.
Snapper spent the rest of his long career in the United States, at Mt. Sinai Hospital in New York City, the Cook County Hospital in Chicago and finally at Beth-El Hospital in Brooklyn, where he continued research in metabolic diseases and multiple myeloma, as well as sharing his acumen with clinicians and medical students. As a senior clinician, he also offered his thoughts on medical education and its history in Meditations on Medicine and Medical Education: Past and Present.
Snapper was widely admired for his great knowledge and clinical skill. His elevated self-concept is particularly well depicted in a famous reply he gave a young colleague who asked why he held no board certification in Internal Medicine: "Who on the Board would dare to examine me?"
Sources
Mart J. van Lieberg, Isidore Snapper's Notes for Memoirs 1889-1973. Rotterdam: Erasmus Publishing, 2004.
Annet Mooij, "Snapper, ISidore (1889-1973)," accessed November 12, 2004, www.inghist.nl/Onderzoek/Projecten/BWN/lemmata/bwn6/snapper
Isidore Snapper, Meditations on Medicine and Medical Education: Past and Present, New York: Grune & Stratton, 1956.
Related Content
Photographs