Kalevi Pyörälä, MD
Born: 1930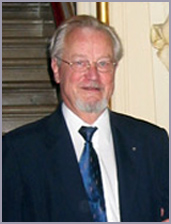 Kalevi Pyörälä was educated at the University of Helsinki and trained and served on the faculty at the Third Department of Medicine there until 1975, when he became Professor of Medicine at the University of Kuopio where he is professor emeritus.
He has been involved in Finnish and European epidemiological studies from their outset, including serving as principal investigator of the Helsinki Policemen Study and leader of the Kuopio Center in the MONICA project and its Finnish continuation, the FINAMI Study. He served as a member of the Steering Committee and Investigator in the Scandinavian Simvastatin Survival Study (4S) and EUROASPIRE studies, the SCORE project and the Euro Heart Survey sponsored by the European Society of Cardiology and the collaborative DECODE Study Group.
He has led the Finnish Cardiac Society and the Council on Epidemiology and Prevention of the International Society and Foundation of Cardiology, and served as consultant to the World Health Organization for several decades. As a senior member of the internal medicine and cardiovascular medical communities he has been a central figure in the study of and population view of sociocultural determinants of the CVD epidemic and in public health strategies of prevention worldwide. He is now a central participant in developing a history of CVD prevention research.
Please click here for a description of the Helsinki Policemen Study.
Related Content
Study Synopses