Srecko Nedeljkovic, MD, PhD
Born: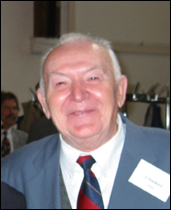 Professor Nedeljkovic became the principal investigator of the Serbian component of the Seven Country Study following the retirement of Professor Djordjevic. Nedeljkovic became the outstanding cardiologist of Serbia. He received his medical degree in 1952 from Belgrade, specializing in internal medicine, and trained in biostatistics at Columbia University, getting a PhD in 1969. As an early participant and eventual Director of the Serbian component of the Seven Countries Study, he was responsible for successful follow-ups over the years and for the reorganization of the dietary surveys. He led in establishing preventive cardiology in Yugoslavia.
Nedeljkovic was well known in Yugoslavia for other studies: on electrotherapy, cardiac arrhythmias, and hemodynamics. He was the founder and Chief of the Cardiology Laboratory and the Chief of the Cardiology Clinic at the University of Belgrade as well as President of the Yugoslav Society of Cardiology. Nedeljkovic was active in international cardiology as a Fellow of the American College of Cardiology, international exchanges with Baylor College of Medicine and Chairman of the Annals of the World Congress of Cardiology.
Nedeljkovic was a stickler for standardized clinical methodology, for obtaining complete recruitment of survey samples, and for supervision of survey activities throughout the Seven Countries cohorts. He is honored not only in his scientific community but also for outstanding competition in European chess championships. His other hobby has been ballistocardiography.
He remained, until his death, a steadfast colleague in international CVD epidemiology. (HB)
Related Content
Oral Histories