Mario Mancini, MD
Born: 1930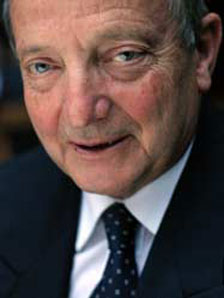 Mancini was among the early Preventive Cardiologists and became an international leader in medical strategies of cardiovascular disease (CVD) prevention.
Mancini received his MD from the University of Naples in 1954, where he was assigned as guide and translator to Ancel Keys and Paul White during their early explorations of cultural differences in coronary risk. He specialized in medicine and cardiology, and did post-doctoral studies at London's Hammersmith Hospital and at the University of Minnesota's Laboratory of Physiological Hygiene. Most of his mature career was as chair of the Department of Clinical and Experimental Medicine at Naples.
His research career focused on the metabolic components of hypertension and atherosclerosis, including studies on diet and lipids, on blood pressure and myocardial hypertrophy, and on plasmapheresis in familial hypercholesterolemia. In his Minnesota period he developed the 'dry chemistry' technique of cholesterol measurement from whole blood spots, by his finding that red cell cholesterol was constant.
In addition to his contributions to the metabolic aspects of CVD, he was a leader with Barry Lewis of London and G. Assmann in Muenster in professional education for prevention, producing a series of authoritative guidelines to preventive practice for the European Atherosclerosis Society. He held important offices in the World Heart Federation and International Atherosclerosis Society and founded the journal "Nutrition, Metabolism, and Cardiovascular Disease." His department trained a generation of clinical investigators in cardiovascular diseases.
Mancini's side trip to London during the student revolts of the 1960s led to his lifelong close collaborations with Barry Lewis and Lars Carlson. He was also one of the earliest clinical investigators to incorporate the ideas on nutrition and CVD of Ancel Keys into his research and practice. Though he resisted Keys' invitation to transform him into a CVD epidemiologist in America, he and Keys remained close friends and colleagues over the years. Mancini remains in active retirement in Naples. (HB)
Sources
Mario Mancini, in an interview recorded by Henry Blackburn, 2004, History of Cardiovascular Epidemiology Collection, University of Minnesota.
International Task Force for Prevention of Cornory Heart Disease. 2007. International Task Force for Prevention of Cornory Heart Disease [Internet]. Muenster, Germany. Available from: http://www.chd-taskforce.com [Accessed 24 January 2007].
Related Content
Oral Histories
Photographs