David Kritchevsky, PhD
1920 — 2006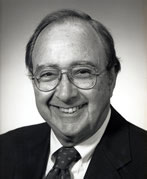 Dr. Kritchevsky was involved from 1957 until his death in research at the Wistar Institute, under an NIH Career Research Award, on diet, cardiovascular disease, and cancer. He was educated in chemistry at the University of Chicago, with a PhD from Northwestern in 1948. He did post-doctoral work with Nobel-Prize winner Leopold Ruzicka at the Federal Research Institute in Zurich in 1948 and 1949 and staffed the Radiation Laboratory with another Nobel Prize winner, Melvin Calvin, at the University of California, Berkeley, from 1950 to 1952.
His Wistar obituarist characterized Kritchevsky as:
"… a lively contributor to the ongoing national debate on nutrition and health for almost six decades. In addition to his distinguished career in medical research, he was also noted for his humorous take on life and the scientific enterprise, perhaps expressed best in a series of songs with which he entertained while also teaching about science. Among these were the "Cholesterol Biosynthesis Song," sung to the tune of "Jingle Bells," "Macrophage," sung to the tune of "Mack the Knife," and "If I Had a Big Grant," sung to the tune of "If I Was a Rich Man," from Fiddler on the Roof."
"Dr. Kritchevsky mentored many people in diverse fields of biochemistry, lipid metabolism, nutrition, and cardiovascular disease. Many of his students have gone on to illustrious careers in academia, government, and industry. He encouraged scientific curiosity and independence in his students and was generous with his time and ideas when they returned for advice. His generosity extended to his technicians, who were included as authors on his many papers."
From 1975 to 1991 he was associate director of the Wistar Institute and for years chaired graduate studies at the University of Pennsylvania. He authored an early book on cholesterol in 1958 and, in 1981, with O.J. Pollak, a book on sitosterol and the anti-cholesterol properties found in vegetable oils. Please click here for Dr. Kritchevsky's obituary. (HB)
Sources
Wistar Institute Obituary of November 21, 2006.
On the web at www.wistar.org.
Related Content
Eulogies and Obituaries
Photographs