William Kannel, MD, MPH
1923 — 2011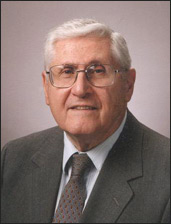 After an early interest in engineering, Dr. Kannel, a Brooklyn native, received medical training through the US Army at the Medical College of Georgia in Augusta. On the urging of his wife Rita, who made certain he was a candidate for an announced Public Health Service Commission, Kannel joined the USPHS in 1949 and was assigned to The Framingham Heart Study in 1950 under its new medical director, T. Roy Dawber. Regarding those early days of Framingham, Kannel said, "We were about to study 5,209 people and 80 variables. Some thought we were insane to try to do this. And I think it turned out we were." In need of training in statistics and epidemiology, he received an MPH from Harvard in 1958, earned part-time while seeing Framingham subjects.
Kannel has taught at Harvard and at Boston University and has been involved with the Framingham Study for six decades, including a long stint as Director from 1966 to 1979. Of his hundreds of research publications, he regards his major contributions in this single-minded career as the first use of multivariable risk assessment, coining the term "risk factor," and clarifying many issues of import to the practitioner.
Until his death, Kannel was professor of medicine and public health at Boston University School of Medicine and director of the Visiting Scientist Program at the Framingham Heart Study. (HB)
Please click here for Dr. Kannel's obituary in the Washington Post.
Sources
Oral history with Henry Blackburn, February 23, 2002.
Daniel Levy and Susan Brink. A Change of Heart: How the People of Framingham, Massachusetts, Helped Unravel the Mysteries of Cardiovascular Disease. Alfred A Knopf, New York, 2005, p 49.
Framingham Heart Study, List of Investigators, William B. Kannel, retrieved October 28, 2005.
Related Content
Oral Histories
Photographs