Harold Kahn
1920 — 2009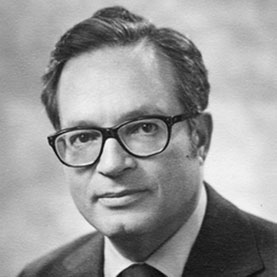 Harold Kahn was an early figure in epidemiological analysis and a leader in cohort studies. Born in New York City, he graduated from high school at 15 and from New York College at 19. There he earned a bachelor's degree in biology and later completed a master's degree in statistics at American University but fell one language credit short from earning a PhD. (1)
Much of his career was spent in the United States Public Health Service where, during World War II, he worked as statistician on studies of venereal diseases. In the 1960s, he joined the National Heart Institute where he became statistician for the Framingham Heart Study and developed the "Framingham Method" (2) which assessed risk of disease using a pooled, repeated-measures model still used today.
He played a principal role in studies of the diet-heart hypothesis and in several central prospective studies such as the Puerto Rico Heart Health Study, the Yugoslavia Cardiovascular Heart Disease Study, and the Israel Ischemic Heart Disease Study, which allowed him to live and work for three years in Israel (1966-1969).
His work with the Public Health Service culminated with his being named chief of the Office of Biometry and Epidemiology for the National Eye Institute from 1971–1975, where he initiated the Framingham Eye Study. On retirement from the PHS he became a tenured professor in epidemiology at Johns Hopkins University. In 1983 he first published a seminal work with Chris Sempos on statistical methods in epidemiology. (3) A loving obituary was written by his close colleagues. (1)
Sources
1. Kahn HA, Dawber TR. 1966. The development of coronary heart disease in relation to sequential biennial measures of cholesterol in the Framingham Study. Journal of Chronic Disease 19(5):611–620.
2. Kahn, S., CT Sempos. 1989. Statistical methods in epidemiology. Oxford. New York.
3. Sempos, CT, U. Goldbourt. 2009. Obituary: Harold Kahn (1920-2009): A remembrance of a public life devoted to public health. American Journal of Epidemiology 170(12):1530-1532.
Henry Blackburn
Related Content
Photographs