Abraham Kagan, MD
1922 — 2003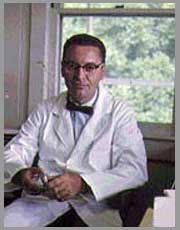 "Abe" Kagan was born and educated in Boston, earning his MD from Boston University and clinical training at Western Reserve and Mt. Sinai Hospital. He accepted an early assignment to the USPHS Framingham Heart Study and in the 1960s became the first principal investigator of the USPHS Honolulu Heart Program. He was coordinator for NIHOSAN, the study that compared Japanese men from the mainland with migrant groups in Honolulu and the California Bay Area.
His book, The Honolulu Heart Program, (Harwood Academic, 1996), which also treats NIHONSAN, is a major contribution to understanding the independent and powerful effect of different cultural exposures in populations of comparable genetic origin. Japanese men in Honolulu had coronary disease rates intermediate between those in Japan and in the western United States. While coronary rates rose the more eastward the migration, stroke rates fell.
The Honolulu Heart Program was a key cog in the wheel of understanding about diet and lifestyle as principal independent determinants of individual risk and population cardiovascular disease rates. The aging Japanese cohort is now followed for predictors of Alzheimer's and Parkinson's disease.
Sources
Lum, Curtis. "Abraham Kagan, 80, Cardiologist, Researcher." Honolulu Advertiser February 8, 2003.
Kodama, Kazunori. "In Memoriam: Abraham Kagan, 1922-2003." RERF Update 14 (2003): 26.
Related Content
Photographs
Study Synopses