Ingvar Hjermann, MD
Born: 1933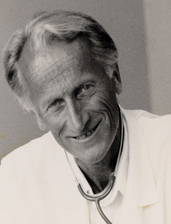 Ingvar Hjermann was the principal investigator of the Diet and Antismoking Trial, a seminal randomized controlled trial in middle-aged men with high serum cholesterol levels recruited from the Oslo Study cohort.
Hjermann was educated at the University of Oslo, receiving the MD degree in 1960 and DMedSc degree in 1980. He trained in internal medicine and cardiology at Ullevaal Hospital, Oslo. He joined the research group led by Paul Leren, conducting the first Oslo Study, a large population-based cardiovascular risk screening study started in 1972.
The Diet and Antismoking Trial tested the effect of dietary and antismoking advice on the incidence of coronary death or non-fatal myocardial infarction. In this 5-year trial, dietary intervention was successful, antismoking advice less so, but the incidence of coronary heart disease was reduced in the intervention group to half of that in the control group and this was maintained during a 15-year follow-up of the survivors.
Hjermann was Professor of Medicine at the University of Oslo and Head of the Department of Preventive Cardiology at Ullevaal University Hospital from 1994 until his retirement in 2001. (KP)
Related Content
Oral Histories
Study Synopses