Alan Gregg, MD
1890 — 1957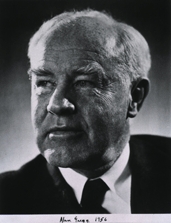 Alan Greg, long director of the Rockefeller Foundation's Division of Medical Education, was friend and sponsor of public health education and research. He was born in Colorado Springs, CO, received his medical degree from Harvard in 1916, and interned at Massachusetts General Hospital. He served with the Harvard Medical Unit attached to the British Army during World War I and in 1919 began a 37-year career with the Rockefeller Foundation. He used the financial resources of the foundation to further medical research and became a central advisor to the Atomic Energy Commission, the National Institute of Mental Health, the Veterans Administration, the Hoover Commission and the Office of Defense Mobilization. He helped sponsor the bill that created the National Library of Medicine and received a special Lasker award from the American Public Health Association after his retirement.
Gregg played a major facilitating role to CVD epidemiology and prevention research in direct and peripheral ways. He avidly supported public health education and research and sponsored Snapper's career in China and in the United States. He sponsored Jerry Morris's trip to the U.S. in 1947, which greatly influenced epidemiology in the United Kingdom. He and the foundation were sponsors of the programs and structure of the London School of Hygiene and Tropical Medicine at a critical time for this pioneering international center in prevention and public health.
Gregg remained Director of Medical Sciences at the Rockefeller until 1951, at which point he was made a Vice-President of the Foundation. Shortly after his retirement, Time magazine published the statement that "no man alive has had a wider or deeper influence on both the practice and teaching of medicine than Dr. Gregg." Gregg deserves to "emerge from the shadow of Flexner," mainly from changes in philanthropy he brought about, which paved the origins of current funding in biomedical research.
In a 1949 report, Gregg claimed: "The present policies in the National Institutes of Health have been derived more from Rockefeller experience than anywhere else." He was saddened by the trend of NIH and the Rockefeller to fund multiple short-term grants and by his trustees' insistence on (1) no endowments, and (2) no long-term support. Gregg noted sarcastically, "Thanks to this imitation, the Foundation no longer risks becoming the largest distributor of chicken feed in the country." Gregg's legacy lies in the projects and areas he developed and in his prescient warnings about a shift of funding that has become a feature of contemporary scientific policy.
Gregg died on June 19, 1957.
Sources
National Library of Medicine, "Finding Aid to the Alan Gregg Papers, 1900-1957." 
Schneider, W.H. "The Model American Foundation Officer: Alan Gregg and the Rockefeller Foundation Medical Divisions," (2003) Miverva 41: 155-166.
Soloman, S.G. "Building Bridges: Alan Gregg and Soviet Russia, 1925-1928," (2003) Miverva 41: 167-176.