Lester Breslow, MD, MPH
Born: 1915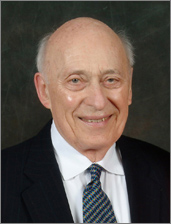 Lester Breslow was educated at the University of Minnesota (BA, MPH, MD, and DSc (hon)) and was a district health officer in Minnesota before becoming head of the California Department of Health. He pioneered health screening and lifelong monitoring, community studies of behavior and health risks, and personal and public health interventions on risk factors for chronic diseases. His classic Alameda County Health Study, looking at simple daily activities such as sleeping, breakfasting, and church attendance provided insights to the private and social behaviors that most influence health and well being.
One of his many popular aphorisms is: "It's what you do, hour by hour, day by day, that largely determines the state of your health; whether you get sick, what you get sick with, and perhaps, when you die." And he made clear that these behaviors were importantly a function of the social culture in which the person dwells.
Breslow transitioned to academia in the 1970s and became internationally active in preventive medicine and public health, as professor, then Dean, at the UCLA School of Public Health. He held major leadership roles in the Association of Schools of Public Health, the American Public Health Association, the Institute of Medicine, and the International Epidemiological Association. At the level of Presidents Commissions and U.S. health treaties he has advised and guided national and international health policy.
This leadership responsibility and the busy committee work thrust upon him has been fueled by his profound grasp of the social issues that determine health and disease. His life work has clearly been motivated by a political concern for and personal devotion to the common good.
Les Breslow is a pioneer in CVD epidemiology and prevention research, a wise and calm counselor, a warm and supportive friend, an engaging and positive communicator, a giant in the public health, and a Midwestern – turned international – "Mensch." (HB)
Please click here for the Alameda County Study description.
Sources
Julie Marquis,"Dr. Lester Breslow, Mr. Public Health," LA Times, October 13, 1997.
Related Content
Oral Histories
Photographs
Study Synopses