Gerald Berenson, MD
Born: 1922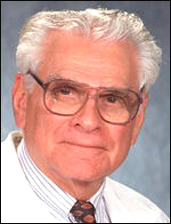 Gerald Berenson was born in Bogalusa, Louisiana, where the Bogalusa Study he has headed for 40 years has made that rural community widely known. He received his education from Louisiana State University.
The Bogalusa Study, among the first NIH Special Centers of Research (SCORS), pioneered in establishing the distributions of CVD risk factors, both biological and social, and their trends in youth and adolescence. It posed and tested the simple idea that common adult diseases begin in childhood, and that risk is already identifiable. It maintained that prevention should begin in youth and include both medical and population-wide public health strategies. Bogalusa school and community-based programs, such as Heart Start, serve as models.
The Bogalusa group has produced new information on factors of CVD risk, first elaborating the traditional risk factors and then new ones such as homocysteine levels, Lpa, insulin resistance, obesity, lipid subfractions, and specific genes. They were early to look at proteoglycans and mucopolysaccharides and to relate risk factor levels to arterial findings at autopsy in young people.
Berenson and colleagues were early to recognize the powerful potential of preventing high risk in the first place and were the first to encourage and study the use of anti-hypertensive, and then anti-cholesterol medications in clinically healthy children with elevated levels of blood pressure and lipids.
There are noteworthy characteristics of Gerald Berenson's contributions other than their scientific depth and balance. In at least 90% of his 700-odd publications, his is the guiding hand at the very end of the author list, putting his colleagues up front. This is the ultimate collegiality, the true mentoring, the prototype for collaborative teamwork, the ideal of academic leadership. This manner of research and management stimulates and enhances creativity. And, of course, it redounds eventually to the greater productivity and reputation of the institution. Despite this, it is rarely found in academia. (HB)
Please click here for a description of the Bogalusa Heart Study.
Sources
Gerald Berenson. An Encomium. H. Blackburn
Marquis Who's Who Online
Related Content
Oral Histories
Photographs
Study Synopses