1955 Minnesota Symposium on Arteriosclerosis in Minneapolis, MN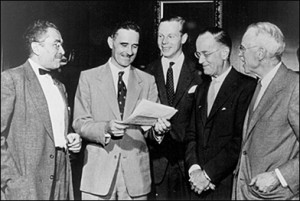 Left to right: Louis Katz, a major figure in experimental atherosclerosis, from Michael Reese Hospital in Chicago; John Brock, clinical investigator who from the early 1950s studied ethnic and cultural differences in diet and CVD in Cape Town populations; Michael Oliver, age 30, researcher on hormones and atherosclerosis from Edinburgh; Irvine Page of the Cleveland Clinic and senior U.S. Researcher in diet, hypertension and atherosclerosis; Paul Dudley White of Boston, dean of cardiologists and early leader to study CVD across cultures.
Credits/References
Courtesy of Dr. Michael Oliver. Blackburn Collection, CVD History Archive, School of Public Health, Univ. of Minnesota.