D. Mark Hegsted, PhD
1914 — 2009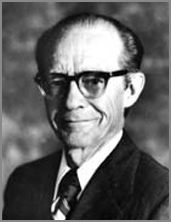 This "Idaho farm boy" moved through the Agriculture Experiment Station at the University of Idaho to a doctorate in nutrition at the University of Wisconsin, Madison, earned in 1940. In Wisconsin he found an exciting place for nutritional biochemistry: "We learned more from bull sessions than from classes." After some work in industry, Hegsted was recruited in 1962 by Fred Stare to join his Division of Nutrition at Harvard's Schools of Medicine and Public Health.
In the late 1970s, Hegsted became the first Administrator of Nutrition at the USDA. He helped produce the 1980 Dietary Guidelines for Americans, which, over the opposition of egg, dairy and meat producers, recommended that Americans reduce their risk of CVD by reducing the amount of saturated fat and cholesterol in their diets.
Hegsted did not shy away from controversy. A guiding idea of Hegsted's career is that "reasonably healthy people are adapted to their current diets." He used this idea to help explain why, for instance, populations in Western countries with high calcium intakes also have high levels of osteoporosis, and as well to explain research on protein requirements. His work in nutrition has been wide-ranging. "My bibliography reads like a potpourri of nutrition topics, including nutrition of ducks, gerbils, cats, dogs, monkeys, and a few other species, with papers on most of the B vitamins, ascorbic acid, vitamin D, vitamin A, inositol, iron, fluoride, and others."
A professor emeritus at Harvard, Hegsted kept an active interest in nutritional science and, more critically, in what transpired with his dietary guidelines for Americans. (SF/ HB)
Please click here for letters from Mark Hegsted to Henry Blackburn.
Sources
Hegsted DM 2000. From Chick Nutrition to Nutrition Policy. Annual Review of Nutrition 20, pp 1-19.
University of Idaho 1976 Hall of Fame, retrieved December 5, 2005.
Related Content
Oral Histories